69th of the Old Boys of St Wilfrid's School, Haywards Heath to lose his life in WW1.
Arthur was born on 26 June 1886 in Haywards Heath to Edward Henry and Ellen Knight. His father was a carpenter who had also been a St Wilfrid's schoolboy, the headmaster at the time had often complained about the Edward Knight's attendance and non-payment of school pence. In 1891 the family lived at the Railway Stables, near to the Burrell pub and railway station.
At some time between 1893 when his Arthur's baby sister Rose died (she was buried in St Wilfrid's churchyard) and 1901 the family moved to Reigate where they lived at 11 Copse Road. Arthur was 14 at the 1901 census and had a job as an "odd boy" in a builder's yard. Like his grandfather and father he trained as a carpenter but then left to seek a new life in Canada in 1911 which is where he joined the Canadian Army on 19 December 1914. His papers say he was a carpenter and had served 1 year in the Territorial Army. He was 5ft 9in, had blue eyes, a fair complexion and was declared fit for service.
In 1917 Arthur was awarded the Belgian Croix de Guerre and was posthumously awarded the Victoria Cross, the highest medal possible for the action which had caused his death on 3rd Sept 1918. The London Gazette printed this:
"For most conspicuous bravery, initiative, and devotion to duty when, after an unsuccessful attack, Serjt. Knight led a bombing section forward, under very heavy fire of all descriptions, and engaged the enemy at close quarters. Seeing that his party continued to be held up, he dashed forward alone, bayoneting several of the enemy machine-gunners and trench-mortar crews, and forcing the remainder to retire in confusion. He then brought forward a Lewis gun and directed his fire on the retreating enemy, inflicting many casualties.

In the subsequent advance of his platoon in pursuit, Serjt. Knight saw a party of about thirty of the enemy go into a deep tunnel which led off the trench. He again dashed forward alone, and, having killed one officer and two N.C.O.s., captured twenty other ranks. Subsequently he routed, single-handed, another enemy party which was opposing the advance of his platoon. On each occasion he displayed the greatest valour under fire at very close range, and by his example of courage, gallantry and initiative was a wonderful inspiration to all. This very gallant N.C.O. was subsequently fatally wounded.
The Canadian records tell us a little more:
"While taking part in operations with his Company, he was struck in the head by shrapnel from an enemy shell about 3pm on September 3rd 1918, when 500 or 600 yards left of Buissy. He died shortly after being wounded."
He died in a nearby military field hospital and is buried at the Dominion Cemetery, Hendecourt-les-Cagnicourt, grave I. F. 15. His VC is in the Glenbow Museum in Canada. A commemorative plaque has been erected to honour him in Haywards Heath, at the Town Hall.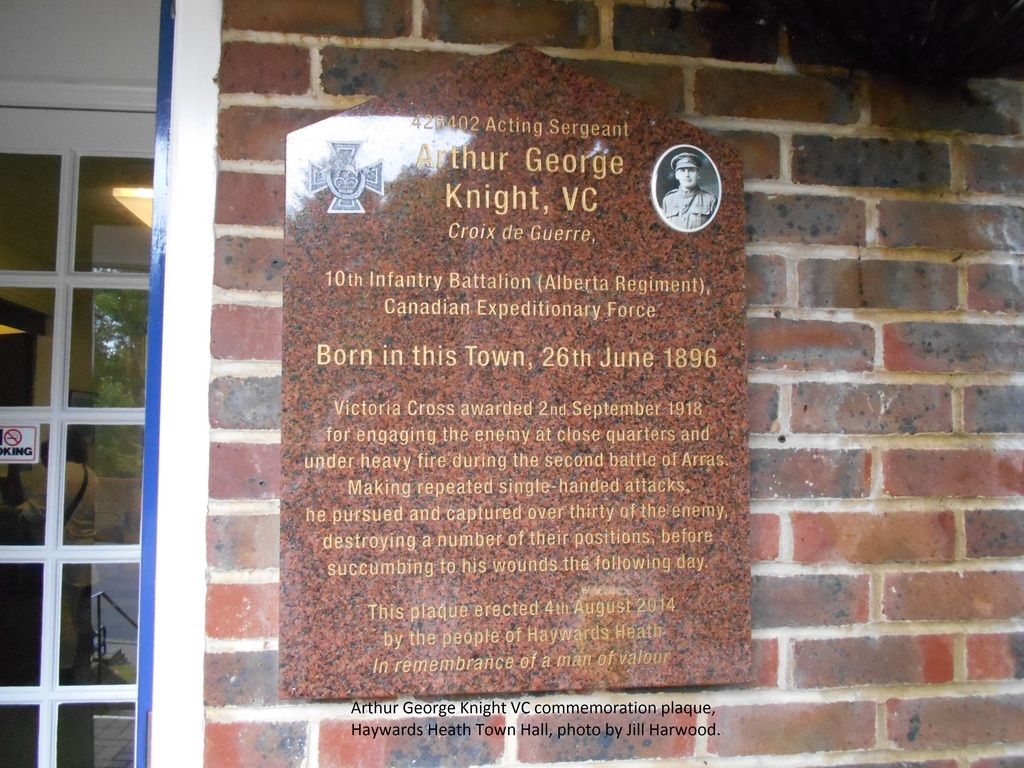 Arthur's parents were presented with his medal by the king at an investiture at Buckingham Palace. Arthur's mother died in Reigate in 1923, his father lived on there with Arthur's sister Nellie and her husband until his death in 1942.
Arthur's cousin
George Frederick Watts
was another of the school's Old Boys to die, his mother was Arthur's aunt Alice Jane Knight.